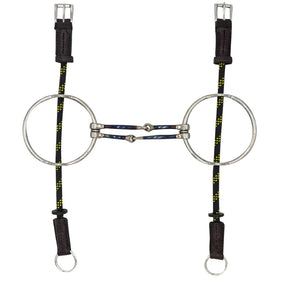 Young Equestrian Polo
Bombers Big Ring Gag Barrie
Regular price
$164.35
$0.00
Unit price
per
A gag works by lifting the bit in the mouth in order to encourage the head to be raised. Often used on strong horses that like to lower their heads in order to escape the action of the bit in the mouth and get very strong.
When pressure is applied to the rein, the bit is lifted in the mouth and poll pressure is applied. The bit also rotates slightly in the mouth putting more pressure on the tongue and bars.
The Barrie is a severe bit due to the centre links of the two pieces being offset by 20mm giving it a double nutcracker action, which creates more tongue and bar pressure.
Gag rounds sold separately 
---