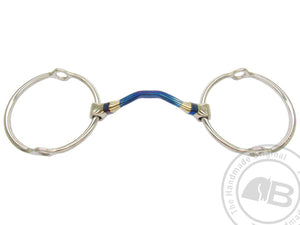 Bomber
Bombers Polo Big Ring Gag Happy Tongue
Regular price
$144.24
$0.00
Unit price
per
A gag works by lifting the bit in the mouth in order to encourage the head to be raised. Often used on strong horses that like to lower their heads in order to escape the action of the bit in the mouth and get very strong.
When pressure is applied to the rein, the bit is lifted in the mouth and poll pressure is applied. The bit also rotates slightly in the mouth putting more pressure on the tongue and bars. To be correctly used, it must be used with two reins one on the gag rein and one on the big ring only bringing the gag rein into play when needed.
The Happy Tongue is a solid mouth- piece uniquely ported to give maximum tongue relief. The curved mouthpiece is softer on the bars and slow in applying tongue pressure.
Disclaimer: Sweet Iron will oxidize when it comes into contact with mositure, this oxidation process encourages salivation which improves acceptance of the bit. This process changes the blue colour of the Bomber bit to a brownish grey. If not used for a while, any build-up may be removed with a scourer and wiped with a damp cloth.
Happy Tongue
Big Ring Gag
Includes Gag ropes
---